This aubergine and lentil salad recipe has a lot in common with the roast carrot, feta and puy lentil salad that I shared last week but the flavour and texture are both quite different. It's a good example of what I talked about in that post: Spotting the 'pattern' of a recipe and then creating variations on a theme to produce something quite different. The texture is softer because it uses tinned green lentils instead of puy lentils and fried cubes of aubergine rather than the roasted carrot. But I think what really sets it apart is the flavour from the ras-el hanout.
Ras-el-hanout is an aromatic North African spice blend. I have the one from Seasoned Pioneers which contains galangal, rosebuds, black pepper, ginger, cardamom, nigella, cayenne, allspice, lavender, cinnamon, cassia, coriander, mace, nutmeg and cloves. Whew! You'd have to be very dedicated to blend that one yourself. If you don't have ras-el-hanout you could substitute a sprinkle of whatever spices you have to hand and I'm sure it would still be good but I do really like this complex blend.
I used a can of d'aucy lentils but any canned lentils would be fine or you could cook your own. You really don't need a lot of feta cheese; just enough to give it that salty kick.
This makes a good lunch served on its own or you can stuff it into pitta pockets, with or without a splodge of houmous. We happened to have some leftover pitta and houmous when we had it yesterday and that did work really well.
This recipe was submitted to Emily Leary's Recipe of the Week Roundup.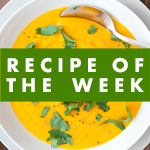 Warm Aubergine And Lentil Salad
Ingredients
2

tbsp

olive oil

1

aubergine

diced

1

clove

of garlic

finely sliced

1

tsp

ras-el-hanout

1/2

red onion

final sliced

1

tsp

dried thyme

Juice of 1/2 a lemon

1

x 400g can of lentils

8

cherry tomatoes

halved or quartered

50-100

g

feta cheese

Black pepper
Instructions
Heat the olive oil in frying pan and fry the aubergine and garlic gently for about 10 minutes. Keep moving it around but don't add any more oil - aubergine will absorb as much oil as you care to give it!

When the aubergine is almost cooked stir in the ras-el-hanout.

Add the red onion and cook for 3-5 minutes to soften.

Sprinkle with thyme and mix in the lemon juice

Add the drained lentils and cook until warmed through.

Stir in the cherry tomatoes and cook for another minute.

You can transfer the salad to a bowl or serve it straight from the pan. Crumble the feta cheese over and season with black pepper.